Measuring and Choosing the Correct Size Window Well Cover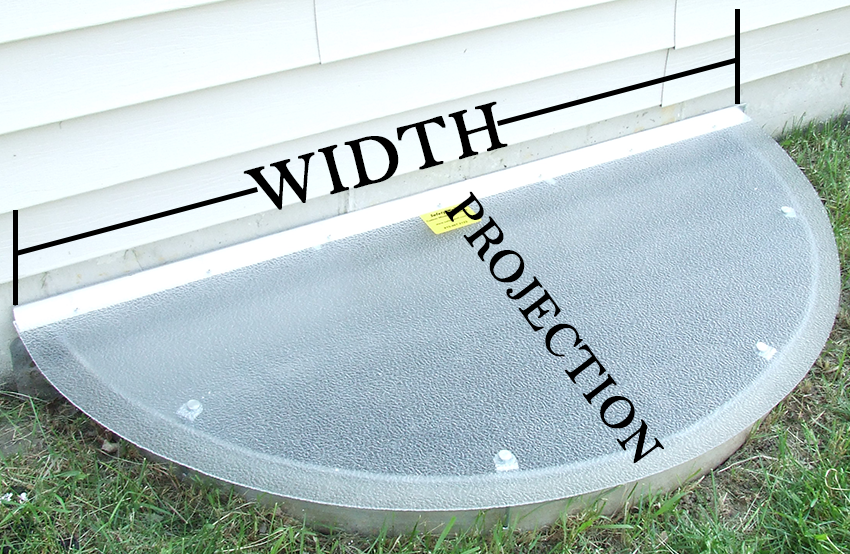 How to Measure Your Window Well
- Measure width (along the house)
- Measure projection (out from the house)
- Choose a window well cover large enough for the entire opening of your window well plus a 1" lip overhang around the perimeter of the window well.
- Browse Covers found in Products. You can choose what shape window well you would like there.
We have 21 in stock sizes to choose from that are ready for next day shipping.
Choosing the correct size window well cover will allow you to trim your cover to the profile of your window well (if needed) giving you a perfectly fitted window well cover. To quickly find the correct window well cover, also use our Window Well Cover Calculator found to the side. The calculator will bring you to the recommended in-stock window well cover that will fit your window well. If a recommended in-stock cover does not appear, please Contact Us at 1-888-934-67761-888-934-6776. In the case you would like an exact fitting window well cover, you will have to send us a template of your window well, and we will build your custom cover for you. The steps below explain how to make your template.
How to Make an Exact Window Well Template
1: Take a large sheet of cardboard and lay it over your window well.
2: Use a hammer to indent the edge of your window well onto the cardboard.
3: Flip the cardboard over and use a marker to trace the indentation.
4: Mail us the sheet of cardboard so we can make your cover.

Our mailing adress is:
P.O. Box 848
Minooka, IL. 60447